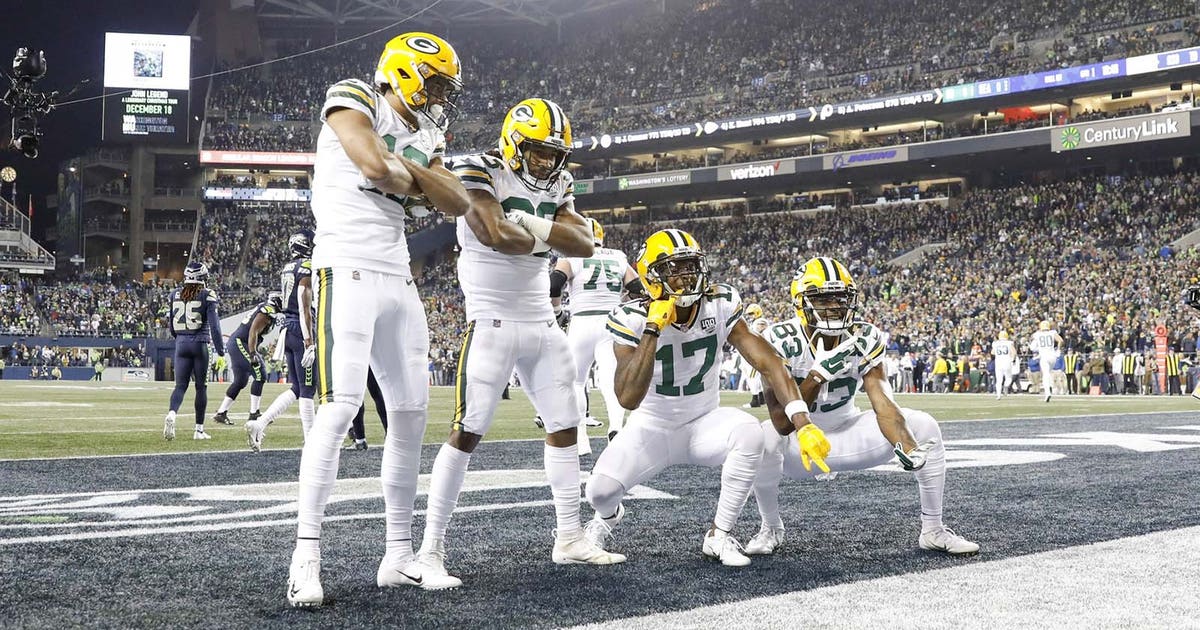 Tight end Jimmy Graham's return to Seattle, where he played three years before signing with Green Bay, did not go as he had hoped.
Graham caught just one pass (on his only target) for 13 yards and had to leave early with an injury that will reportedly force him to miss several weeks.
In the Packers' first nine games, Graham had played at least 68 percent of the offensive snaps in each game (the low coming last week), and usually 80 percent or more. Because of the injury, Graham had just 21 snaps (43 percent) against the Seahawks.
More Packers coverage from FOX Sports Wisconsin
In Graham's absence, Lance Kendricks saw a slight uptick in playing time, getting 26 snaps (53 percent). Kendricks usually is for about one-third of Green Bay's plays, give or take a little, although last Sunday against Miami he was in for a season-high 61 percent.
Marcedes Lewis (10 snaps, 20 percent) and Robert Tonyan (3 snaps, six percent) were not the answer for Mike McCarthy in trying to fill the void left by Graham.
Instead, Green Bay went heavy with wide receivers, even with Randall Cobb sidelined and Trevor Davis and J'Mon Moore relegated to special teams.
That left the triumvirate of Davante Adams, Equanimeous St. Brown and Marquez Valdes-Scantling. The three were on the field for all but 10 plays.
Valdes-Scantling missed just one snap and St. Brown six, but both only finished with one catch (St. Brown had four targets, Valdes-Scantling three). Adams missed just three snaps and on the 46 plays he was in on was targets 12 times (or 26 percent of Green Bay's plays), finishing with 10 catches for 166 yards.
Other notes from Sunday's snap counts:
— Green Bay ran just 49 offensive plays; Seattle had 70.
— Remember when Aaron Jones couldn't get snaps and then there was some kind of committee? Well, Jones was in on 44 offensive plays (90 percent) and fellow running back Jamaal Williams just four (8 percent).
— Safety Josh Jones and linebacker Blake Martinez were the only two defenders to appear in every play, although safety Tramon Williams and cornerbacks Jaire Alexander and Josh Jackson missed just one play each.
— Claimed off waivers on Nov. 5, safety Ibraheim Campbell got into his first game for the Packers, playing 11 defensive snaps (19 percent) and nine on special teams (29 percent). Campbell also played in one game with the New York Giants and four with Dallas earlier this season.
OFFENSE
| | | |
| --- | --- | --- |
| PLAYER | PLAYS (49) | % |
| Bakhtiari | 40 | 100% |
| Bell | 49 | 100% |
| Bulaga | 49 | 100% |
| Linsley | 49 | 100% |
| Rodgers | 49 | 100% |
| Taylor | 49 | 100% |
| Valdes-Scantling | 48 | 98% |
| D. Adams | 46 | 94% |
| A. Jones | 44 | 90% |
| St. Brown | 43 | 88% |
| Kendricks | 26 | 53% |
| Graham | 21 | 43% |
| Lewis | 10 | 20% |
| J. Williams | 4 | 8% |
| Tonyan | 3 | 6% |
DEFENSE
| | | |
| --- | --- | --- |
| PLAYER | PLAYS (70) | % |
| J. Jones | 70 | 100% |
| Martinez | 70 | 100% |
| Jackson | 69 | 99% |
| T. Williams | 69 | 99% |
| Alexander | 69 | 99% |
| Fackrell | 58 | 83% |
| Clark | 57 | 81% |
| Matthews | 54 | 77% |
| Lowry | 47 | 67% |
| Morrison | 40 | 57% |
| Daniels | 34 | 49% |
| Gilbert | 27 | 39% |
| Brown | 25 | 36% |
| M. Adams | 23 | 33% |
| Breeland | 20 | 29% |
| Greene | 14 | 20% |
| Campbell | 11 | 19% |
| Lancaster | 11 | 16% |